MA student receives Ontario policy research award
Shannon McKechnie, a graduate student in Western Education's Critical Policy, Equity and Leadership Studies program, has won an Ontario Graduate Policy Research Challenge award.
With the award, McKechnie received $2,000 from the Ministry of Advance Education and Skills Development (MAESD).
"It was really exciting. I didn't anticipate to win. It's nice to know your topic is interesting and relevant to a large community," she said.
McKechnie was recognized for researching skills-development at post-secondary institutions. She's currently examining, as part of her Master of Arts thesis, how MAESD's Highly-skilled workforce strategy and the Career kick-start strategy are enacted at the university level to support skill development and job-readiness in undergraduate students.
In particular, McKechnie is researching university staff who work in student affairs, career counselling and leadership development to see how they're enacting Ontario policy through programs and services to develop 'soft' skills in students.
She wants to know "what does skills development policy look like when it reaches students."
Soft skills include interpersonal skills, such as communication, team work, adaptability, conflict resolution, problem solving, time management and critical thinking.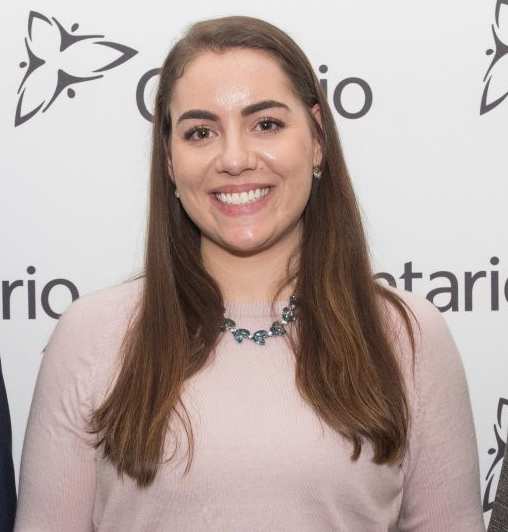 Shannon McKechnie, recipient of the Ontario Graduate Policy Research Challenge award.
McKechnie believes this topic is important because there is a great deal of pressure on students to learn job-ready skills – both soft and hard skills – at university, which will make them employable after graduation. In addition, she said since governments are specifically directing universities to provide job-ready skills to students through policy like the Highly-skilled workforce strategy and the Career kick-start strategy, this attitude is having an impact on departmental funding.
"We see in institutions the social sciences, humanities, and arts faculties are receiving a decrease in funding," she said.
McKechnie said the government's focus on skills development has also had an impact on administrative staff as student services like career education, recreation and wellness, Indigenous and accessibility services have seen significant growth.
"Student affairs and services really has exploded. As a field, it's increasing opportunities for students to have success and I think it's important to understand more about the staff in the field."
According to MAESD, the Ontario Graduate Policy Research Challenge rewards high-quality graduate student research that's relevant to postsecondary education, training and labour market policies in Ontario. The challenge is open to graduate students and recent graduates from graduate programs at publicly assisted Ontario universities or post-graduate certificate programs at Ontario Colleges of Applied Arts and Technology.
As a winner, she also presented her findings during the award ceremony to 250 people. The audience included the Deputy Minister for MAESD, policy makers, representatives of different institutions and policy think tanks. She also answered their questions.
McKechnie plans to complete her research and defend her thesis over the summer and start her PhD at Western Education in the fall. She would like to expand her research on policy to include looking at entrepreneurship and understand student thoughts about skills development.
---
Related News