Challenging perceptions on women's leadership
Women have all the skills needed to become successful leaders. But, organizations are ignoring these skills, which are hurting their teams.
Now, Western Education Master of Arts student Emily Hartman and PhD student Hayley Finn are examining how masculine characteristics in Science, Technology, Engineering and Mathematics (STEM) and sport dominate these fields and negatively affect girls' leadership.
Both graduate students look at the development of leadership during youth and the influence their formation has on their leadership when they become adults.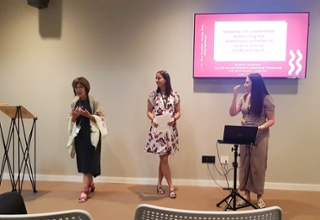 Professor Rita Gardiner, left, Hayley Finn and Emily Hartman participate in a panel discussion concerning girls' leadership at the Fourth Annual Women and Leadership conference, hosted by the International Leadership Association Women's Leadership Conference (submitted photo).
While STEM and athletics may seem like polar opposites to conduct research on leadership, these programs actually complement each other. Finn said these disciplines stress leaders must have masculine traits.
Being decisive, commanding an audience, having strength during adversity and rallying people to one vision defines masculine leadership, said Hartman.
Both students want to change this perception.
"I'm not interested in self-help for girls or how to teach girls how to be leaders. Instead I focus on how girls have all of the skills innately in them to be good leaders," said Hartman.
Hartman and Finn, together with Gardiner, were part of a panel discussion on 'Growing girls' leadership: Addressing the Underrepresentation of Diverse Girls in STEM and Sport' at the Fourth Annual Women and Leadership Conference, which took place in California, and was hosted by the International Leadership Association.
As part of their presentation, Finn reflected on her sporting experiences as a youth and as a varsity basketball player at university. She said masculine features were considered important leadership qualities, such as being physically dominant as well as strong and not showing emotion.
"I never really noticed it until we started talking about these programs and how our own individual identities were shaped by these characteristics," said Finn. "It wasn't all positive."
Hartman said the same is true for STEM – masculine leadership qualities dominate the field, which have resulted in limited opportunities for women.
"We know women are excluded from STEM spaces across the board whether its university program enrolment as well as professional careers. We see that disparity with CEOs and high-level researchers," said Hartman.
On the other hand, Hartman and Finn argue for women to succeed in leadership positions, a feminized perspective – collaboration, critical thinking and community building – must be included as part of the definition of strong leadership.
"When we think about leadership like that, in a way that's inclusive, and really for girls – girls can have really amazing experiences," said Hartman.
They also believe the intersectional parts of girls' identity, such as gender, race, class, ethnicity, background and ability, have to be taken into account when developing leaders because these traits also affect leadership.
"They make an impact in how we experience the world and how we experience sport and STEM," said Hartman.
Their supervisor, Professor Rita Gardiner, said there isn't anything wrong with women's leadership. It doesn't need to be fixed so they can lead like men. She added the ideal leader doesn't exist. Rather, organizations need to think of leadership in a collective way.
"It's about expanding our whole way of thinking about leadership programming and thinking about how we develop diverse leaders," said Gardiner. "It's recognizing leaders exist in many different forms."
---