Celebrating our Doctor of Education Class of 2023
Celebrating our Doctor of Education Class of 2023
Teary-eyed smiles filled the room as Western Education held its annual Doctor of Education (EdD) reception.
Taking place the evening before Fall Convocation, the reception provides a well-deserved celebration for our new EdD graduates, who often juggle families, careers and countless other obligations while pursuing their doctoral degree.
Since the program is completely online, the reception also offers a chance for classmates to meet in-person, likely for their first time. This meant plenty of excitement for Dr. Melissa Hunte, who recalls growing close with those in her cohort during the doctoral program.
"We were able to lean on each other, support each other, encourage other and now that we're here on the eve on graduation, it is overwhelming, but so, so, so good," Hunte said.
Hunte graduated from the K-12 School Leadership cohort and focused her work on administrator health and wellbeing. She feels the program has reaffirmed her beliefs around how school administrators should be treated.
"It has made me double down on my own health, my own wellbeing, setting boundaries with work and making sure that administrators within the board that I work with are taken care of in this manner," Hunte added.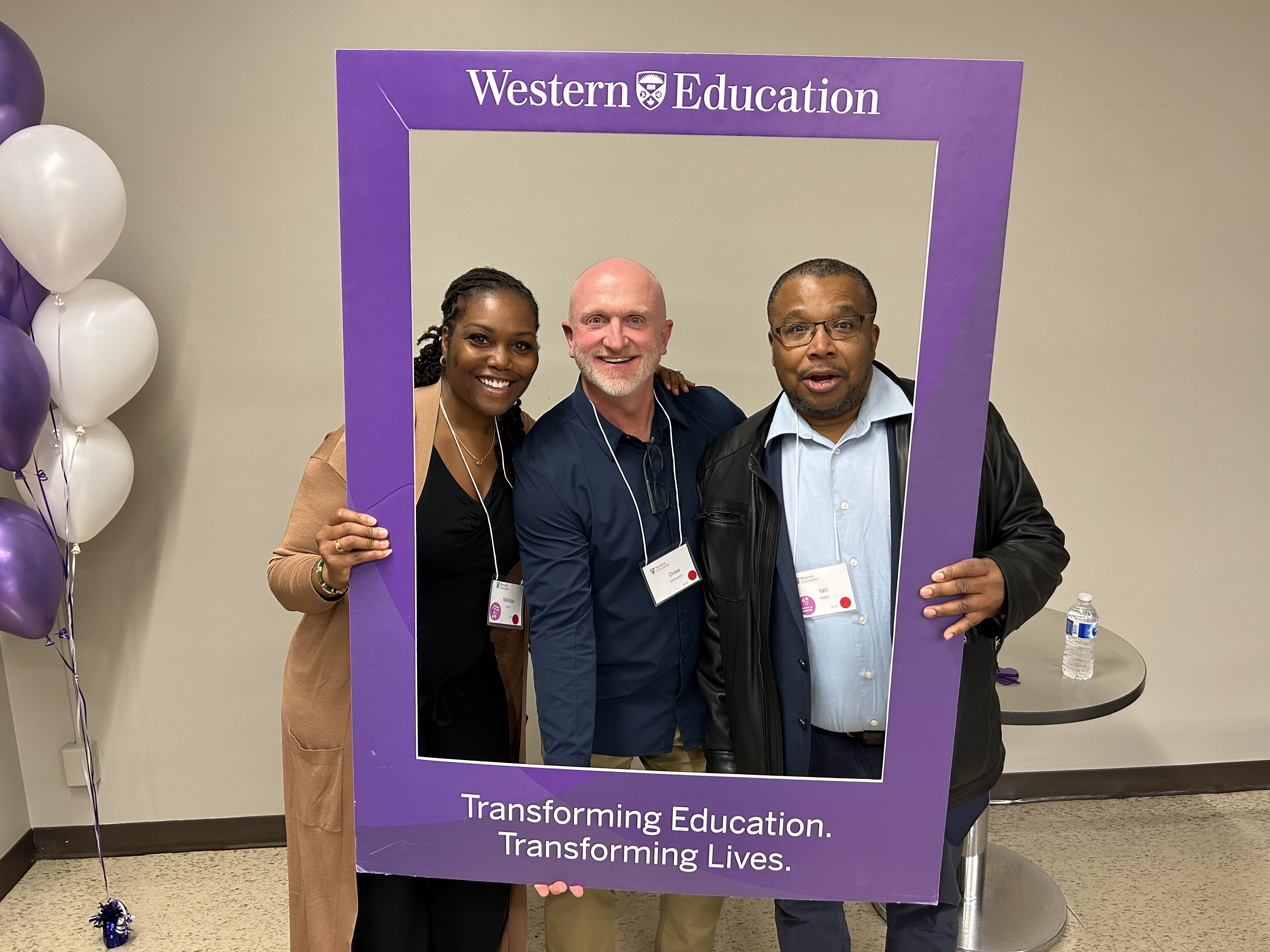 Like Hunte, Dr. Yasser Ismail has plenty of ambitions for the future.
"The work will keep going. All of us really dug into really complex problems, so there will never be a checkbox. My job now is to keep being present for the work," Ismail said.
Ismail, who was in the Community Leadership cohort, says he feels better equipped to tackle the issues he hopes to solve thanks to the program.
"I'm able to define problems in a way that I never would've thought of before. That really is about 90 per cent of any leader's job — to understand the problem first — so that is a total paradigm shift for me in terms of how I worked before the program," Ismail added.
Reflecting on her EdD journey, Dr. Paige Freeborn begins by telling Western Education, "There's a lot of emotion tonight, in the best way possible."
"I swore I'd never do another degree, and then I came across this program," Freeborn said.
Her EdD plans were nearly cut short in the summer of 2020 when her father was diagnosed with pancreatic cancer and given weeks to live. She recalls caring for her father at home, while going through her first orientation session. While she had her doubts that she could commit herself to the program, Freeborn remembers her father sharing important words of encouragement before he passed away peacefully, letting her know that she could do it.
"Right from the get-go, the compassion that I felt from the program managers and from the professors in this program was astounding," Freeborn said.
"I never experienced anything like that before in education. The faculty operates in the world in a way that I would like to operate in my own workplace."
Graduating from the K-12 School Leadership cohort, Freeborn says she now understands "the beauty and the transformative nature of this program."
"I always had agency in my organization, but I'm now able to clearly and confidently articulate what that change might look like through the lens of community engagement," Freeborn said.
"When I go to work, I have ideas and I have language and I'm also way more open to different perspectives and suspending my own assumptions. This has been a very humbling program in that way."
While they were classmates from a distance, Freeborn also feels a unique sense of connection with her fellow EdD graduates.
"This is the irony, I did my undergrad in person at University of Alberta, I did my masters in person at University of British Columbia, and I did this one online and I feel more of a sense of affinity for Western," Freeborn said.
"Not just because it's the most recent, it's just something about the way the entire program is managed and delivered that just really creates that sense of community. Again, I'm a little gobsmacked tonight."
Click here to read a message from the Dean to our EdD graduates.
Photos
---