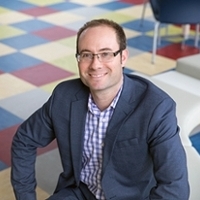 Dr. Colin King, PhD
Director, Mary J. Wright Child and Youth Development Clinic & Associate Professor
-
Applied Psychology
Ph.D., C. Psych
81183

1163 Richmond St., London, ON
---
Dr. Colin King, PhD
Director, Mary J. Wright Child and Youth Development Clinic & Associate Professor
-
Applied Psychology
Ph.D., C. Psych
Dr. Colin King is an Associate Professor within the Faculty of Education at Western University. Registered as a School and Child Clinical Psychologist, I have trained and worked in a variety of community, hospital, and mental health settings with children and adolescents experiencing learning, behavioural, and social-emotional difficulties. Prior to arriving at Western, I worked in private practice and as a Psychologist and Coordinator of Psychological Services in the Thames Valley District School Board.
As Director of the Mary J. Wright Child and Youth Development Clinic (CYDC) at Western University, I oversee our training clinic for graduate students in the School and Applied Child Psychology program where we provide consultation, assessment, and intervention services for youth in our community.  My research lab - Improving Accessibility and Application in School Psychology (IAASP) is dedicated to bridging the gap between academic knowledge and professional practices in school and applied psychology.
My research and clinical interests are drawn from my work as a School and Clinical Psychologist. I am interested in improving and translating assessment and intervention practices from a clinical context to the home and school settings. I also have specific research interests in long-term outcomes for children experiencing learning and social-emotional challenges and the use of exposure-based treatment modalities for youth with anxiety and emotion regulation challenges. As Director of the MJW-CYDC, we are also interested in the use of interdisciplinary training as a method to improve professional training and the utility of interdisciplinary assessment practices to support enhanced outcomes for children and families.  Please check out our research lab, Improving Accessibility and Application in School Psychology (IAASP) for more information on our research and clinical projects.