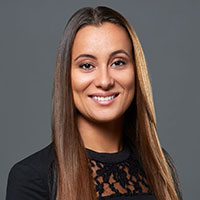 Dr. Barbara Fenesi, PhD
Assistant Professor
-
Applied Psychology
B.A. (Honours) in Psychology, Neuroscience & Behaviour (McMaster University), M.Sc. & Ph.D. in Psychology, Neuroscience & Behaviour (McMaster University), Postdoctoral Fellow in Kinesiology (McMaster University)
Dr. Barbara Fenesi, PhD
Assistant Professor
-
Applied Psychology
B.A. (Honours) in Psychology, Neuroscience & Behaviour (McMaster University), M.Sc. & Ph.D. in Psychology, Neuroscience & Behaviour (McMaster University), Postdoctoral Fellow in Kinesiology (McMaster University)
My passion is rooted in understanding how the entire human organism (both the brain and the body) plays a role in student success. I draw on work from fields of psychology, education, health, neuroscience and kinesiology to identify intervention strategies that can promote cognitive function and mental health in typically developing children and youth, and in those facing academic challenges (e.g., students with ADHD).
My work combines both laboratory and classroom research to translate basic science into applied settings. I use a range of techniques including cognitive and behavioural testing, and neuroimaging to identify strategies that help students better focus their attention and consequently perform better academically.
The ultimate goal of my research program is to develop school-based and community-based programs that increase the opportunity for academic success across diverse student abilities.
Fenesi, B., Lucibello, K., Kim, J. A., & Heisz, J. J. (in press). Sweat so you don't forget: Exercise breaks during learning increases on-task attention and comprehension. Journal of Applied Research in Memory and Cognition.
Heisz, J. J., Fenesi, B., Ogrodnik, M. (in press). Effects of Physical Activity on Cognition in Adults. APA Handbook of Sport and Exercise Psychology.
Fenesi, B., Fang, H., Kovacevic, A., Oremus, M., Raina, P., Heisz, J. J. (2017). Physical exercise moderates the relationship of apolipoprotein E (APOE) genotype and dementia risk: A population-based study. Journal of Alzheimer's Disease, 56(1), 297-303.
Fenesi, B., Kramer, E., & Kim, J. A. (2016). Split-Attention and Coherence Principles in Multimedia Instruction Can Rescue Performance for Learners with Lower Working Memory Capacity. Journal of Applied Cognitive Psychology, 30(5), 691-699.
Fenesi, B., Mackinnon, C., Cheng, L. Kim, J. A., Wainman, B. (2017). The Effect of Image Quality, Repeated Study, and Assessment Method on Anatomy Learning. Journal of Anatomical Sciences Education, 10(3), 249-261.
Fenesi, B., Sana, F., Kim, J. A., & Shore, D. I. (2015). Reconceptualizing working memory in educational research. Journal of Educational Psychology Review, 27(2), 333-351.
Fenesi, B., & Kim, J. A. (2014). Learners misperceive benefits of redundant text in multimedia learning . Frontiers in Educational Psychology, 5(710), 1–7.
Fenesi, B., Heisz, J.J., Savage, P., Shore, D.I., & Kim, J.A. (2014). Combining best-practice and experimental approaches: redundancy, images and misperceptions in multimedia learning . Journal of Experimental Education, 82(2), 253-263.
Fenesi, B., Vandermorris, S., Kim, J. A., Shore, D. I., & Heisz, J. J. (2015). One size does not fit all: Older adults benefit from redundant text in multimedia instruction. Frontiers in Developmental Psychology, 6(1076), 1-9.
Fenesi, B., & Sana, F. (2015). What is Your Degree Worth? The Relationship Between Post Secondary Programs and Employment Outcomes. Canadian Journal of Higher Education, 45(4), 383-399.
Fenesi, B., Sana, F, & Kim, J. A. (2014). Evaluating the Effectiveness of Combining the Use of Corrective Feedback and High-level Practice Questions. Teaching of Psychology, 41(2), 135-143.
Sana, F., & Fenesi, B. (2013). Grade 12 versus grade 13: Benefits of an extra year of high school. Journal of Educational Research, 106(5), 384-392 .
Sana, F., Fenesi, B., & Kim J. A. (2011). A case study of the introductory psychology blended learning model in McMaster University. The Canadian Journal for the Scholarship of Teaching and Learning, 2(1), 1-10.
2019 – Cognitive & Academic Interventions (MA, School & Applied Child Psychology, Year 2/PhD, School & Applied Chid Psychology, Year 2) – University of Western: Course Code 9811B-001
2019 – Capstone Projects for Teaching Students with Exceptionalities (MPEd, Teaching Students with Exceptionalities, Year 2) – University of Western: Course Code 9487L-650
2017 - Fundamentals of Neuroscience (BA/BSc Life Sciences, McMaster University, Year 2)